Business Survey Templates
Valuable Data Leads to Better Business Decisions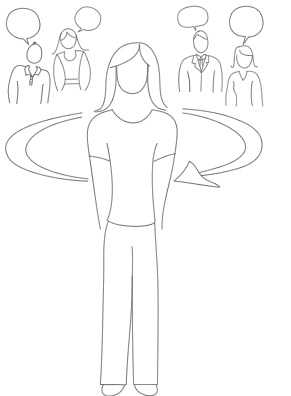 Are you absolutely sure you're making the right decisions for your company and your customers? Find out when you create online business surveys to gauge the interests and satisfaction of your customers. Collect the information you need to make intelligent, informed decisions about your products and services. Our business survey templates help you create and send targeted business questionnaires to your customers, regardless of the size of your business.
How to Use Consumer Feedback Surveys
There are so many ways to use customer questionnaires to help advance your business. Here are a few ideas to get you started.
Get Insights Into Your Business Easily
Find out how we can select the right surveys for your business and automate your surveys across customer touchpoints.
Business Survey Examples
3 Tips for Better Business Surveys
Ask how much. There's a subtle range of positive and negative responses. To obtain even richer data, go beyond questions requiring a "yes" or "no" response and try asking a "how" question, such as "How professional is our company?". This gives you a better idea of where your customer service needs lie.
Use filters. Our filtering tools help you view data by age, market, gender and more. Compare your demographic data directly in SurveyMonkey or export the data to view it using your favourite software.
Send reminders. About halfway through the survey, nudge participants who haven't responded. Don't rush or pressure respondents; reiterate the fact that you would sincerely like their feedback.
You don't have to spend loads of money to obtain answers. You just need to take advantage of the smart, cost-effective tools. Are you unsure how to reach the right people? SurveyMonkey Audience gives you access to millions of respondents who are ready to provide the answers you need in order to make critical decisions. At SurveyMonkey we're always working to improve our technology to help you make your best decisions. By sending a survey to reach out to your target market, you can ensure that your efforts are as effective as possible.
Are You Looking for More Survey Templates and Survey Questions?
Why Do 20+ Million People Use SurveyMonkey?
Free
Send an unlimited number of surveys and polls with our FREE plan.
Easy to Use
Create and monitor your survey directly over the Internet – we've made it easy to get started, learn and use.
Intuitive Design
There's no need to be a programmer or engineer – if you can check email or use Facebook, then you can use SurveyMonkey.
Real-Time Results
You can view your data as it comes in, keeping it to yourself or allowing others to see it.
Trustworthy and Experienced
SurveyMonkey has helped over 20 million satisfied customers gather information online.
Expands with Your Needs
SurveyMonkey PRO plans enhance your ability to gather and interpret information with advanced analytics and more.